Live Ant Habitats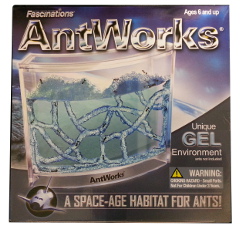 AntWorks Gel Habitat
This Ant habitat is based on a NASA space experiment to see how ants tunnel in space. Instead of sand the ants tunnel through a transparent, non-toxic gel. You can see everything the ants are doing! You don't need to worry about feeding or watering the ants - they get their nutrition from the gel. Just put the ants in and you're done. Size: 6.5 x 6 x 1.25 inches. Includes Extreme Zoom Lens, Tunnel Starter Tool, Instructions, Ant Order Coupon.
Price: $21.95
Note: Ants must be ordered separately.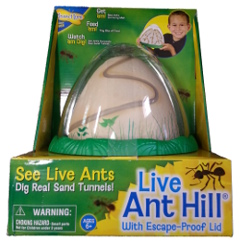 Ant Hill Living Ant Habitat
The AntHill is the world's first living ant habitat designed lika a real ant's home! Watch as these hard-working critters burrow underground to create an amazing network of subterranean tunnels, walkways and secret chambers. Features a realistic double-sided viewing area, wide base for super stability, escape-proof locking lid, special AntHill fill sand, fun ant activities and complete instructions.
Price: $19.99
Note: Ants must be ordered separately.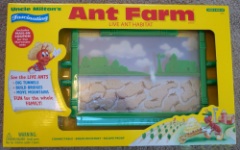 Uncle Milton Ant Farm
This is what most people think of when you say "Ant Farm". Watch ants construct a subtaranean network underneath their farm. The Ant Farm is connectable so you can connect as many as you want together into a large network of ant farms. It is also break resistent and escape proof. Comes with Tunneling Sand, Antway travel tube, 4 connecting Ant Ports built in. The Ant Farm measures 9 X 6 inches.
Price: $14.99
Note: Ants must be ordered separately.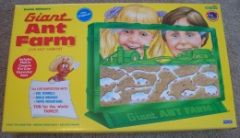 Uncle Milton Giant Ant Farm
A larger version of the Ant Farm, the Giant Ant Farm offers a Bigger Ant Watching Experience. The Giant Ant Farm is a whopping 15 X 10 inches! Plenty of viewing room to watch your ants construct their tunnels and chambers.
Price: $26.95
Note: Ants must be ordered separately.
Ant Farm Revolution
The revolution has begun! It's time for a whole new way to look at ants. First, watch as these tiny architects sculpt their gel habitat into a 360 degree work of art. Then, sit back and watch your ants "crawling" on the ceiling as the Ant Farm Revolution projects Giant Shadows of your ants.

Requires 3 AAA Batteries. (not included) Price: $39.95

Features:

Ant habitat pre-filled with tunneling gel
LED and projecting lens
Tunnel starter tool
Ant Watcher's Manual
Break Resistant

Note: Ants must be ordered separately.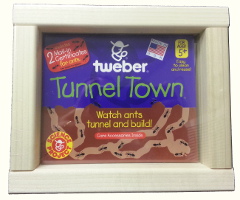 Tunnel Town
Made with sturdy wooden construction this habitat is easy to clean out and use over and over again. Explore the underground lifestyles of ants, earthworms, grubs, or other critters. Note: Sand not included.
Dimensions: 7" long x 3" wide x 6" tall
High-impact, clear, plastic viewing panels
Includes: eye dropper, tweezers, and ant facts.
Note: Ants must be ordered separately.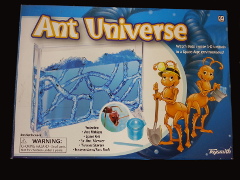 Ant Universe
Similar to the AntWorks above only smaller this habitat is great for watching ants tunnel in nutritious non-toxic gel. Enjoy hours of fascinating fun and educational excitement as you watch ant architecture evolve! Includes 6.5 x 5 x 1 inch habitat, Nutritious Ant Gel, 5X Magnifier, Tunnel Starter Tool, Instruction booklet, Ant Order Form.
Price: $18.95
Note: Ants must be ordered separately.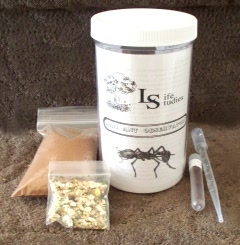 Ant Viewer Observatory
The Ant Viewer is a cylinder shaped observatory about 5 1/2 inches tall. An inexpensive way to experience the world of ants. The Ant Viewer comes with Sand, Ant Food, Water Pipet, and a Small Supply of Ants (About 15). Order 2 or more for Science Projects and get a great discount.
Price (1): $

9.95

Price (2 or more): $

7.50

each
Note: If you will not be setting up your Ant Viewer right away, please request a certificate for your ants that you can redeem when you are ready.
Ordering Information
For Secure Online Orders add items to your online Shopping Cart. For Mail or Fax orders you may print out an order form at: Order Form Page. For U.S. residents we have a Toll Free Phone#: 877-864-2207. For International Calls our phone # is: 435-635-9005.