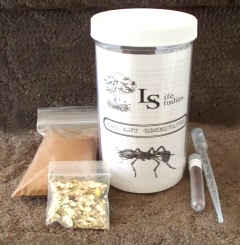 Ant Viewer Observatory
The Ant Viewer is a cylinder shaped observatory about 5 1/2 inches tall. An inexpensive way to experience the world of ants. The Ant Viewer comes with Sand, Ant Food, Water Pipet, and a Small Supply of Ants (About 15). Order 2 or more for Science Projects and get a great discount.
Price (1): $

9.95

Price (2 or more): $

7.50

each
Note: If you will not be setting up your Ant Viewer right away, please request a certificate for your ants that you can redeem when you are ready.
Ordering Information
For Secure Online Orders add items to your online Shopping Cart. For Mail or Fax orders you may print out an order form at: Order Form Page. For U.S. residents we have a Toll Free Phone#: 877-864-2207. For International Calls our phone # is: 435-635-9005.